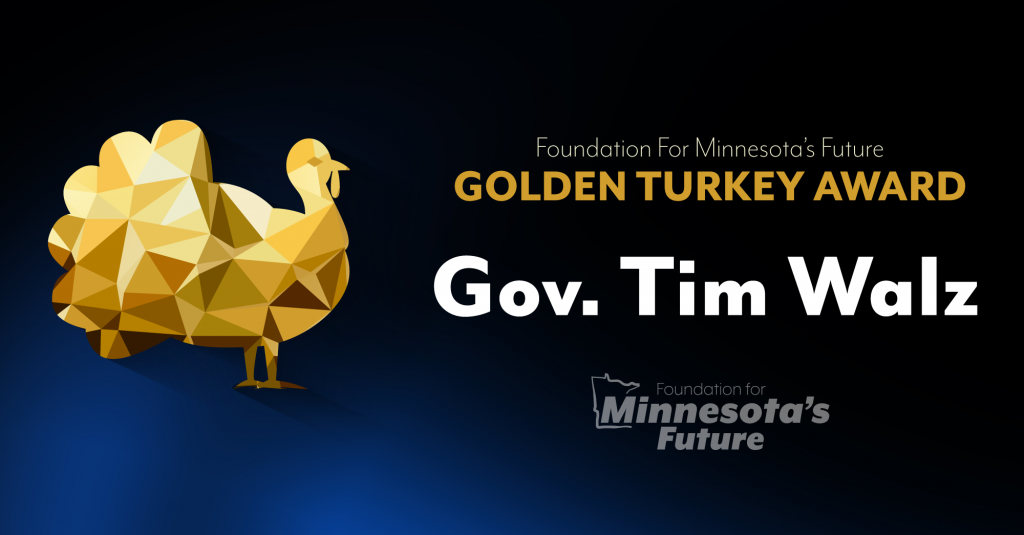 The Foundation for Minnesota's Future has awarded the first-ever "Golden Turkey" Award to Governor Tim Walz. The award is to bring attention to the skyrocketing costs of household goods during Minnesota's abnormally high inflation compared to the rest of the country. Some have coined the phrase "Minnflation" to describe the phenomenon.
Minnesota has one of the highest inflation rates in the country.
"We thought the Golden Turkey Award was appropriate at this time because many families are experiencing sticker shock as they plan to have their family gatherings this holiday season. This seems to be far worse in Minnesota than the rest of the country. The skyrocketing consumer prices are evidently caused by this Governor and his policies," said Kevin Poindexter, the Foundation for Minnesota's Future Chairman. "Minnesotans will find the cost of a turkey may make it seem like it is plated in gold this year, but unfortunately those prices are for the same goods they always had and unfortunately here to stay for the long term."
The Bureau of Labor and Statistics showed an increase in poultry prices on average almost 14% higher this year over last year's prices. There is no doubt Minnesotans are feeling the money crunch.
However, it's not just food prices that are soaring. Costs are soaring almost across the board.
Gasoline prices are up nearly 45.6%
New Car prices are up 18.5%
Household energy is up 19%
Utility Gas prices are 60.3%
Additionally, Excel energy proposed a 20% rate hike for residential electricity users.
"Inflation is a nationwide problem, but the crunch is being felt harder in Minnesota," added Poindexter. "Minnesotans who are finding it more difficult to make ends meet should blame the politicians who have supported policies that have caused essential items to rise in cost. Governor Tim Walz and his allies have created their own Minnflation and they should be held accountable."
The Foundation for Minnesota's Future is a non-partisan nonprofit organization dedicated to informing and educating the people of Minnesota about the policy decisions that are being made at the State Capitol and the impact they have on the everyday lives of the people of Minnesota.
 Learn more at www.MinnesotasFuture.org.
###